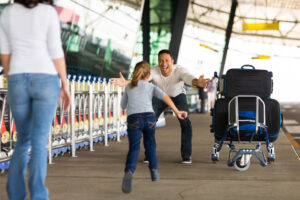 Family reunification is a process that allows family members to live together in the same country. At Aguelo Abogados, we understand that this is an important and delicate issue for many people, which is why we offer legal advice and representation services in the field of family reunification.
Our team of registered lawyers with extensive experience in immigration law can help you navigate the requirements and procedures necessary to apply for family reunification in Spain. Whether you are applying for a visa for your spouse, partner, children, parents, and other direct relatives, we can help you prepare and submit your application, ensuring that it meets all legal requirements.
In addition, we offer legal advice and representation in cases of denial of family reunification applications, appeals, and resources. We ensure that our clients receive personalized and effective advice throughout the process.
At Aguelo Abogados, we value the importance of keeping families together and work hard to help our clients achieve this goal. If you need legal advice on family reunification, do not hesitate to contact us. We will be happy to help.
Processing of residence permit for family reunification and other authorizations related to foreign minors, accompanied or unaccompanied, born or not in Spain
If you want to apply for a residence visa for family reunification in Spain, our team of specialized immigration lawyers can efficiently and effectively assist you throughout the process from document collection to application submission, follow-up of the file, and assistance in your family's visa application. Trust in our experience and knowledge in this type of procedure to ensure the success of your application. Contact us for more information